No accountability for sanitation?
— Media — 4 min read
Yamini Aiyar and Avani Kapur of Accountability Initiative wrote this eloquent oped in live mint. They question the seriousness of the government in fulfilling its target of making India open defecation free by 2019 and argue that the mission, instead of behaviour change, still focuses on toilet construction. We have reproduced the text from the article here.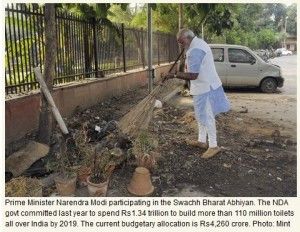 The one thing India doesn't need in the budget is a big financial outlay for sanitation. Seems counter-intuitive? After all, when the Swachh Bharat Mission was announced late last year, the National Democratic Alliance government committed to spending Rs.1.34 trillion to build more than 110 million toilets all over India by 2019. The current budgetary allocation is Rs.4,260 crore. So if the government is serious about its own targets, then it has no option but to significantly increase its current outlay.
But here's the problem. More money to construct toilets is unlikely to help Prime Minister Narendra Modi achieve his goal of a Swachh Bharat. That solving India's sanitation is not merely a project of toilet construction but an exercise in behavioural change is now an increasingly accepted truth. Indeed, Modi has recognized this fact and invested much political capital in urging the country to change its attitude towards sanitation. The endless photo-ops of Modi and sundry ministers with brooms on 2 October were arguably part of this effort to send a symbolic message to the country. However, for all the rhetoric, the instrument the government has designed to move India towards the goal of Swachh Bharat is deeply inadequate.
It runs the risk of falling into the same trap of the past: promoting a system that accounts for toilets but has no accountability for sanitation. To be fair, the first few pages of the recently released mission guidelines holds the promise of a better alternative. Using all the right rhetoric, the guidelines stress the importance of behavioural change and making India free of open defecation. Moreover, in keeping with Modi's emphasis on federalism, the guidelines offer states flexibility to design approaches appropriate to their needs.
However, once it gets into the nuts and bolts of design, the mission goes on to do everything it can to reduce flexibility and keep the focus firmly on toilet construction. It does this by increasing the household subsidy—from Rs.10,000-12,000 per household. In 2014-15, as much as 90% of the mission's budget was allocated to toilet construction while the total budgetary ceiling for spending on awareness-related activities, the primary mechanism for addressing behaviour change, was reduced from 15% to 8%. Of course, given the flexibility offered, states are not obliged to use their subsidy money. But it would take a bureaucrat of extraordinary commitment not to be tempted to access money when she has it and do the easy thing of meeting construction targets.
This is exactly what happened in Himachal Pradesh. In 2005, the state took the bold step of rejecting the construction-focused model in favour of a strategy aimed at creating community demand for toilets. Ending open defecation rather than constructing toilets was the goal. As Deepak Sanan, a bureaucrat closely associated with the change, has written, this move away from construction and associated budgets allowed the administration to shift its focus entirely on creating awareness and measuring success based on villages free of open defecation. State review meetings were about identifying strategies for community engagement and awareness creation, not construction targets.
The results were spectacular. Between 2005 and 2010, toilet coverage increased from 28% to 67% and use was high. But for all this success, as the central allocation for toilet construction increased, so did the temptation at the state level to take the money being offered and, in recent years, the sanitation policy has reverted back to following the centre's diktats. If there is one lesson to be learnt from Himachal Pradesh, it is that the bureaucracy is incentivized to do what gets funded and what gets measured.
A programme that talks of flexibility and behaviour change but, in fact, finances construction is inevitably going to be a programme about construction. This is the future of the Swachh Bharat Mission in its current formulation. Building a government programme designed to change behaviour is easier said than done. This is especially difficult in a context where, as recent research by the Research Institute for Compassionate Economics (RICE) highlights, sanitation behaviour is closely linked to social norms of caste and religion.
Can state bureaucrats trained to follow orders and push files be an effective instrument of such deep social change? Moreover, is it appropriate for the state to enter private homes and dictate behaviour? Yet, there is no argument that sanitation is a pure public good and if there is one place where the Indian state much invest, it is in sanitation. Balancing these concerns and devising an appropriate strategy requires real innovation. But facilitating innovation in government is first a project in bureaucratic reform.
Innovation requires bureaucrats to engage and deliberate with citizens, be sensitive to their concerns, build networks with civil society and incorporate feedback into implementation of decisions. This is the antithesis of the current rule-driven system where orders are followed and citizens ignored. Building capacity is not simply a matter of getting more staff, which is how much of the current debate on the clean India mission is being framed. It is about empowering administrators with the capacity to govern. A lot more thinking and action is needed to make behaviour change a reality and for the moment, this thinking is missing in the Swachh Bharat Mission debates.
For the moment, innovation in the initiative is limited to soliciting private sector participation by creating a Swachh Bharat Kosh. But this fund is restricted to raising money for building toilets in schools rather than engaging private participation in addressing the complex issues of operation, maintenance and innovation for behaviour change. In the absence of innovation, India is right where it was before 2 October and the clean India hoopla: locked in a system that is busy accounting for toilets.
So, do we really want a higher budgetary allocation for sanitation, if all that it will do is accelerate the construction drive? What India really needs is for the Union government to rid states of spending targets and facilitate them to find pathways to deal with the hard problem of behaviour change. And rather than worry about budget allocations and spending patterns, the government can invest in measuring outcomes to incentivize and ensure accountability for sanitation. A few years of lower budget outlays and some co-operative federalism may well be the only route through which India can become truly clean by 2019. You can also read the full article here.