India's sanitation campaigns have cost 40 times Mars mission budget
— Media — 3 min read
Ajai Sreevatsan of The Hindu in his meticulous analysis of the profligate sanitation programs in India, uses SQUAT survey and argues that constructing toilet alone is not enough. He also shows that huge funds for construction were not successful in curbing widespread open defecation in the country.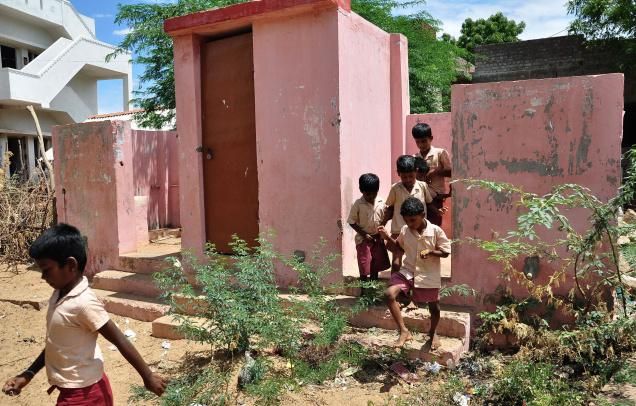 Since 1986, India has spent over $3 billion on constructing toilets across the country, figures from the Ministry of Drinking Water and Sanitation show.
Despite such massive investments, India's sanitation campaigns over the years have unfortunately yielded limited results. India continues to have the largest number of people who defecate in the open. Even poorer countries in the neighbourhood, such as Bangladesh and Nepal, have improved sanitation coverage faster and surpassed India in the last two decades – by all accounts, at a fraction of the cost.
The Indian government is now gearing up to spend an additional $31 billion (Rs.1.9 lakh crore) over the next five years through the Swachh Bharat mission. But experts warn that it could turn into another money wasting exercise. "Just the name of the programme is being changed without bothering to change how it is implemented," says Nitya Jacob of WaterAid.
100 million toilets
The Swachh Bharat mission would place overwhelming emphasis on constructing toilets, with plans afoot to build over a 100 million of them in rural areas alone in the next five years. But if prior experience is anything to go by, many of them would either not be built or not used. Unofficial studies like the SQUAT survey, which was done in five northern States, show that in at least 40 per cent of households with a newly built toilet, a member of the family was still defecating in the open. Cultural conditioning and tradition were some of the reasons for poor adoption, the survey found.
Despite strong evidence that shows constructing toilets alone is not enough, Swachh Bharat would carry forward the hardware-led solution that has been repeatedly tried by governments in the past.
Under the new programme, the allocation meant for changing behaviour and attitudes is actually being cut from the existing 15 per cent to 8 per cent, says Mr. Jacob. "The same practice of constructing toilets which nobody will use and nobody will want is going to continue," he says.
Big spenders
Contrary to expectation, the proposal also makes no allocation for post-implementation audit, Mr.Jacob says. "The government doesn't seem to have learnt anything from the previous 30 years of dysfunctional investment."
Government figures claim that over 97 million household toilets were constructed using public money since 2001 alone. A further nine million were constructed under the Central Rural Sanitation Program that ran from 1986 to 1999.
States such as Uttar Pradesh, Madhya Pradesh and Bihar, which have the worst sanitation indicators, also spent the most amount of money over the last 15 years. Uttar Pradesh alone accounted for nearly a fifth of all the money that was spent on this count since 2001. The State was one of the few that consistently managed to spend over 90 per cent of the allocated money every year.
"Constructing toilets has become a business," says Kamal Kar of the Community-led Total Sanitation initiative. He points to Nepal and Bangladesh, which have had a measure of success without spending so much money, as better models.
People's choice
In both countries, people were allowed to choose the toilet technology that works for them, instead of a government committee deciding it on their behalf. Latrine reviews in the house of a prospective spouse became common, women were included in the community committees that decided the type and location of toilets, and social pressure from school children was used to transform families. Toilet construction was a minor part of the whole programme.
That is why, Mr.Kar says, the Indian government should stop counting the latrines it builds and start counting the reduction in hospital visits. "States with the worst outcomes spending the most money is unacceptable."
You can also read the full article here