Where people want latrines
— Blog Post — 2 min read
There has been a lot about the trip to Bangladesh that has impressed me. One thing that stands out, though, is just how much people want latrines. Driving from Rajshahi to Dhaka, we stopped at a cluster of houses by the side of the road. The people living in them told us that they did not own the land, but they had been squatting on it—some households for only a few months, some for years. In one house, we met a teenage girl, dressed in a school uniform, who told us she was in 9th grade. There was a latrine in front of the tin house.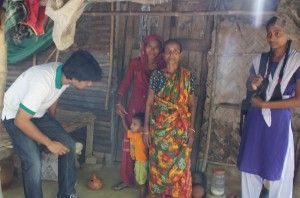 The "walls" of the latrine (called "fencing" in sanitation-speak) were made out of a plastic garbage bag, and there was a concrete slab with raised foot stands and one concrete ring under the slab. The pit underneath the ring and slab was lined with wood.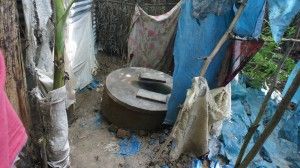 We asked where they had gotten the ring and slab, and the girl explained that they'd gone to a local government office, told them that her mother was a widow, and that they did not have any latrine. The government office provided the slab and ring free of charge. They had built the rest of the latrine themselves.
Now, in Uttar Pradesh, the place in India with which I am most familiar, such a story would be practically unheard of. That such poor people would see a need for and devote so much effort to constructing a latrine, was, in a word, amazing to me. That the local government office would have, on hand to give away, rings and slabs was, again, amazing. But then again, this story fit with other things we'd seen in Bangladesh, and even in that household. The family had a mosquito net hanging over the bed. They were sending their girl to school. She spoke freely with strangers, both women and men.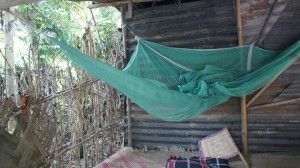 It is clear that many people in Bangladesh, including poor families themselves, are making human development a priority. And when it comes to sanitation, it is a very good thing that they are. The households in this settlement, like many others that we saw, were nearly completed surrounded by pools of standing water. Population density is also very high. If people were to defecate in the open in such circumstances, intestinal disease would certainly be rampant; cholera has been an important challenge in Bangladesh. Today, by using even the most rudimentary sanitation technologies, as well as proper diarrhea treatment, Bangladesh has been able to reduce infant mortality to 33 deaths per 1000, a full 10 deaths per 1000 fewer than India's 43.