The best sanitation articles this week
— Blog Post — 6 min read
These days, we end up posting useful articles on twitter and facebook first, and on the blog later. There has been a flurry of articles in the media recently on sanitation and toilets in India. In this blogpost, we curate the best of them for you.
The New York Times published an editorial on "India's Sanitation Needs". It said,
Some Indians are repulsed by the idea of having a toilet, which they associate with uncleanliness and the caste now known as Dalits, in their home. Others, according to research by the National Council of Applied Economic Research, are wary of the hygiene and odor of toilets typically installed under government programs.

Changing entrenched attitudes and building the 12.5 million toilets that the Ministry of Drinking Water and Sanitation hopes to have in place by 2019 will be a colossal challenge. Mr. Modi's continued leadership is needed, as is the participation of the private sector and nonprofit groups.
Our Associate Director, Sangita Vyas wrote an op-ed for the business newspaper Business Standard which was published under the title "Swachch Bharat Mission: It's not just about building toilets". It was primarily about the policy priorities for the Swachh Bharat Mission. We quote:
What India needs is a latrine use revolution, led by the country's top leadership and known to every rural Indian. The prime minister clearly prioritises sanitation as an issue. But we need him to talk about latrine use, not just construction. We need the country's best marketing experts to come up with clever messages that an army of dedicated behaviour change staff at the district and block levels will spread throughout rural India. We need to foster a market of pit-cleaners, so that people will not be afraid to use latrines with smaller and more affordable pits. We need to systematically and periodically collect data on toilet usage rather than just toilet construction, so we know how we are measuring up to the goal of eliminating open defecation by 2019. Most of all, we need to experiment like crazy to find the best strategies for changing people's sanitation behaviours.

Fortunately, there are a number of large-scale campaigns that we can learn from. We need our latrine use revolution to look like Modi's election campaign, which reached every village in India; like the Pulse Polio campaign, which eradicated polio in the country; like the anti-tobacco campaign, which has made even the most socially isolated aware of the negative health consequences of using tobacco products; the Aadhaar campaign, which enrolled 600 million Indian citizens in just five years. There is every reason to believe that a sanitation campaign of such epic proportions will help the government achieve its goal of a Swachch Bharat by 2019.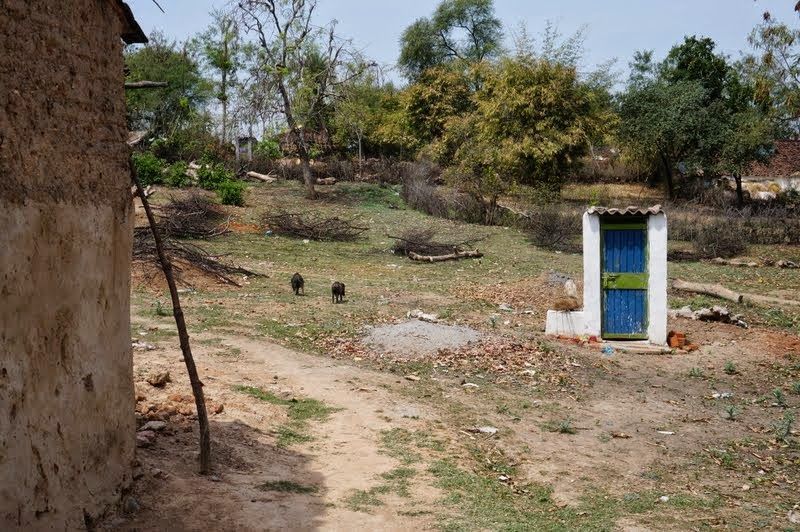 Reuters published an article called "Even if you build a toilet, they may not come: water expert". It quoted senior sanitation professional from the World Bank, who argued:
"What Bangladesh realized very early on was that sanitation is about delivering an infrastructure and about creating behavior change… You have to first recognize that it's a behavior shift that's needed before you put in the infrastructure," Ahmad, the senior director of global water practice at the World Bank, told Thomson Reuters Foundation on the sidelines of a global water conference in Stockholm.

"Health message is not enough to trigger people's shift. You have to understand the behavior, what triggers that change."
Hindustan Times' Kumkum Dasgupta, wrote an "analysis" piece for the paper, in which they quoted Dean and Diane, Executive Directors of r.i.c.e.
But will all this lead to a change in the (sanitation) status quo? Unlikely, says Dean Spears of the Research Institute for Compassionate Economics. Spears, who has worked in El Salvador, India and South Africa, and his colleagues have done a study on the issue in Bihar, Haryana, Uttar Pradesh, Madhya Pradesh and Rajasthan. This is what they have found: More than half of the people in households that own a government-subsidised latrine still defecate in the open and many of the respondents thought that open defecation was as good for child health as latrine use by everyone in the village. This thought process needs to change before starting the next round of toilet construction.

To get people interested in building toilets, the NDA is mulling raising subsidies for individual household latrines from Rs. 10,000 to Rs. 15,000. This would be a misguided decision, contends Spears' colleague Diane Coffey. She says it will not work for three reasons: The plan overlooks the fact that people in rural India do not want to use latrines — even latrines that cost Rs. 15,000 — because use and pit-emptying are seen as ritually polluting, and open defecation is seen as healthy and socially desirable. Moreover, building a Rs. 5,000 latrine for each of the 123 million households that lack one would cost Rs. 1,84,500 crore, which is 45 times the money the government budgeted for rural sanitation in 2014. It is one-tenth of the Union budget for 2014.

That there is no demand for latrines in rural areas is also evident from the fact that you hardly see any shops selling the wares; the ecosystem is just not there. Moreover, when people do not want to use latrines, it is very hard to give them one and so they don't mind much when contractors steal the money earmarked for latrine construction. If people do get bricks and cement to make a latrine, they will use these materials for something they want, adds Coffey.
Bhupesh Bhandari, Editor at the Business Standard, wrote an op-ed called "Build toilets in the mind first". He quoted r.i.c.e. research, and said,
The biggest deterrent to toilets is actually the Indian mindset. Recent work by Research Institute for Compassionate Economics in five states (Bihar, Haryana, Madhya Pradesh, Rajasthan and Uttar Pradesh) found that over 40 per cent of the households with a functional toilet have at least one member who defecates in the open. These people find open defecation more pleasurable and desirable. In other words, even if the government were to fit every home with a toilet, the problem is unlikely to vanish. There is ample evidence to suggest that toilets built with government help are often used as store rooms or even cowsheds. The Punjab government had launched a programme to build community toilets in the state, but these quickly fell into disuse.

That is why it is necessary to instill some sort of behavioural change amongst people. More than the money, Prime Minister Narendra Modi has helped the cause of sanitation by bringing it to the forefront of the national conscience. It now needs to travel down the chain. Mr Mittal expects students of the 48 schools that the Bharti Foundation runs in Ludhiana to be the agents of change. While the money is important, people first need to build toilets in the mind.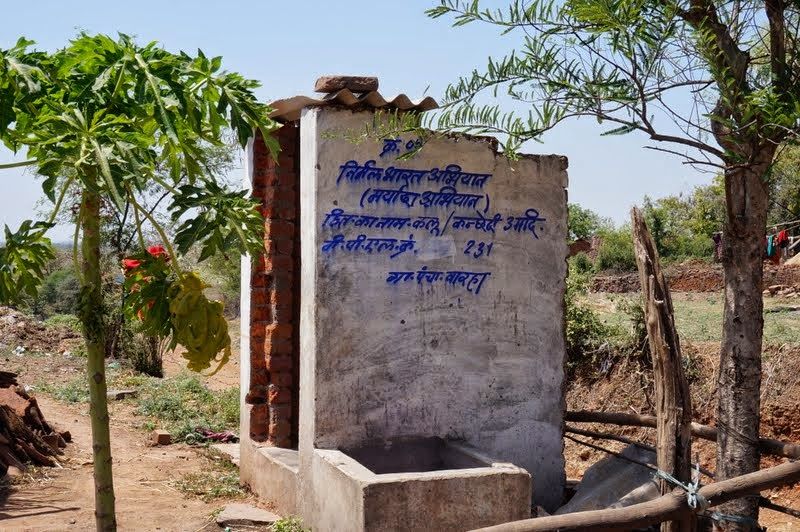 Harsha Raj Getty at the Indian express wrote an extremely interesting article from Karnataka, called "Villages where building a toilet is considered bad luck".
In his Independence Day speech, Prime Minister Narendra Modi called for universal access to toilets. In parts of Karnataka, however, convincing people to use a toilet is proving a mountainous task against established mindsets and cultural beliefs.

"In rural areas, household latrines are very rare. People prefer to go to farms, railway tracks or isolated areas," says Meena Nagraj, additional director of NBA in Karnataka. This has led to parts of the region seeing outbreaks of cholera, malaria, diarrhoea, typhoid and jaundice, especially among children, she says.
Meanwhile, the very cool website vox.com, which we keep reading, carried one of our maps in an article called 38 maps that explain the global economy. Check out #35. Additionally, an article by Dean and Nikhil, Research and Policy Manager at r.i.c.e. was published in the Hindi Daily National Duniya. This is a first for r.i.c.e. as we don't publish anything in Hindi still. We hope to do more of this, to reach out to more people. National Duniya gave us a full page, nothing less!
Varad Pande wrote a nice blog for the channel CNN-IBN, which discussed the Swachh Bharat Mission in detail. We have posted about Varad's article before, so we won't repeat it, but it was one of the best articles on sanitation in the recent past. WaterAid's Andrés Hueso wrote a very nice blogpost for the WaterAid website too, called "Will India's new Prime Minister free the country from open defecation?". It argued:
The main lesson in my view is that better sanitation is not just about building toilets but about people's behaviour. If someone doesn't feel the need to change their sanitary practices, government will spend millions on building toiletsthat simply won't be used and will soon fall into disrepair. So I hope that the campaign launching on 2 October will focus on behaviour. To do so, however, the mindset of politicians, officials, the media and the public towards the issue must change too.
That's it, I think. If you think we have missed out an important article, let us know by email (aashish@riceinstitute.org) or leave a comment on facebook or twitter. We don't allow comments on the blog because we get too many spam comments and its just hard to moderate them all!