PEEPing around in UP
— Blog Post — 2 min read
Hello. I am Aashish, and I have just started working for rice. I spent the most of May and June being an investigator for the PEEP Survey 2013 in Uttar Pradesh, and this first post for the rice-blog is about my impressions from the state, mostly about sanitation and related things. The PEEP survey was about entitlement programs such as Mid-Day-Meals, and not about sanitation per se, so these are just overall impressions, not any systematic investigation.
The survey team visited eight villages in two districts over a course of three weeks. As soon as we landed up in Lakhimpur Kheri district, we were greeted by a Panchayat Bhawan with freshly painted sanitation slogans and poems on its walls.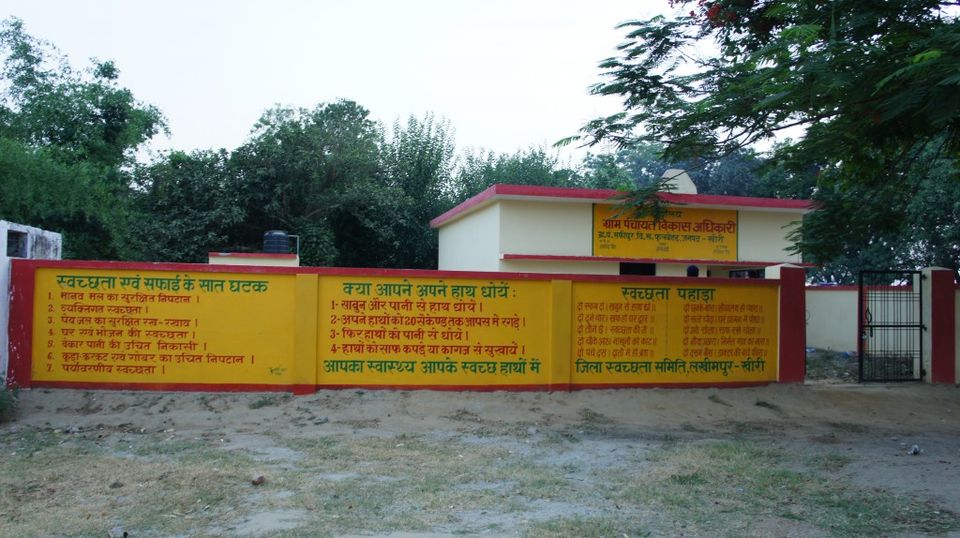 The wall paintings had seven "essentials" for cleanliness and hyigene, which included, of course, "hand-washing", "safe-disposal of human excreta", "keeping drinking water safe", while recommending that hands be washed with soap and water for at twenty seconds. Not bad, I thought.
The school in the village also had a sanitation slogan painted: "Respect for mothers and sisters, Pledge to get a toilet!" The slogan seems to be saying that a toilet is important for women, but appealing to men to get them a toilet, while also giving importance to women not as women, but because of their relationships to men. Reinforcing patriarchy, I thought.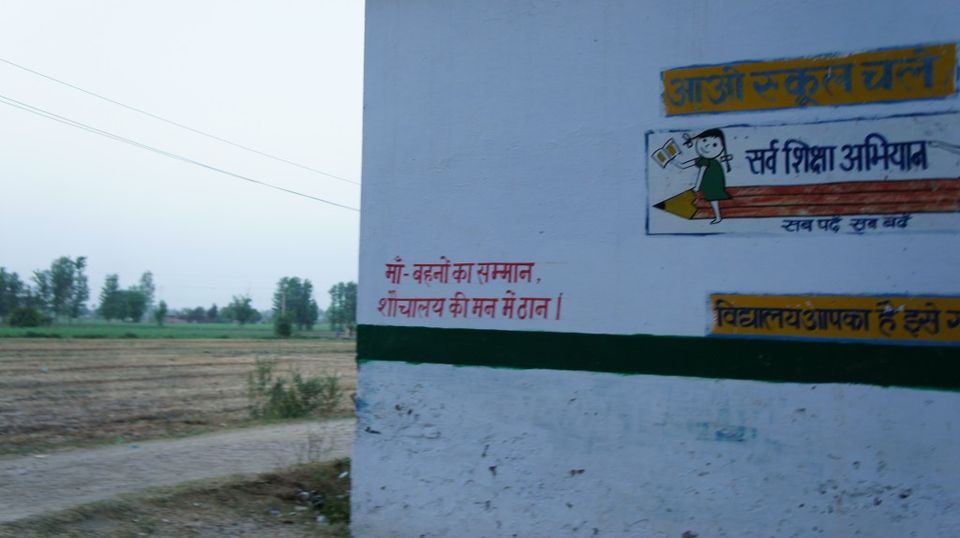 In Chitrakoot, the other district we visited, we were quite delighted when we found a lot of toilets built in one of the dalit hamlets we visited. Kols and Valmikis, two of Uttar Pradesh's most marginalised castes lived in this hamlet, away from the main village, but thanks to a scheme called the "Ambedkar Gram Yojana" – or the Ambedkar Village Scheme – the hamlet had an all-weather road, its own well – and – lots of toilets (the tiny white structures in the image are the new toilets). Dr. Ambedkar, as many of you may know, was one of the founding figures of the modern Indian republic, and the chairman of the drafting committee of the Indian Constitution – and it was certainly nice to see toilets being constructed in his name.

In the same district, we found a "Nirmal Gram" – or a hundred percent open defecation free village which wasn't "Nirmal" at all – A railway line ran right across the village, and it was pretty clear that whatever the villagers may do, they would continue to be exposed to fecal pathogens. Even then, there were several households in the village who did not have a toilet, while others did not use it despite having one.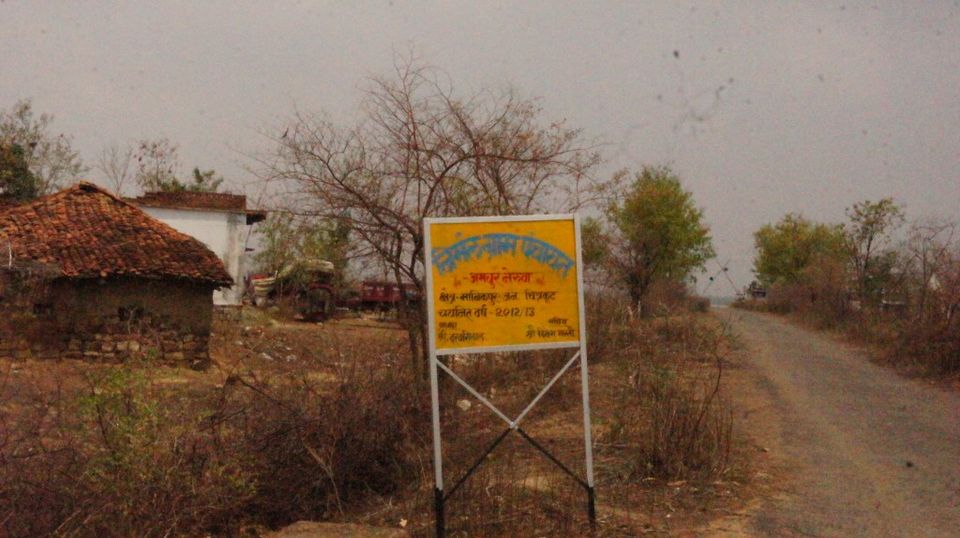 That's it for this post, but before I end this post, here is a final image: A beneficiary of a toilet under the Central Government's "Nirmal Bharat Abhiyan" shows a small metal card which has the name of the head of the household, the Nirmal Bharat Abhiyan's campaign slogan, and an image of a toilet. It also mentions another government intervention – the National Rural Employment Guarantee Act – informing everyone that they can get 100 days of employment in the NREGA.