Happy Holidays from rice
— Blog Post — 2 min read
Some of you may have already seen this by following the link on our holiday cards (thanks Allie for making our awesome holiday cards!), but I wanted to post this letter on our blog too! Thanks so much for all you do to make rice's work possible, and happy holidays!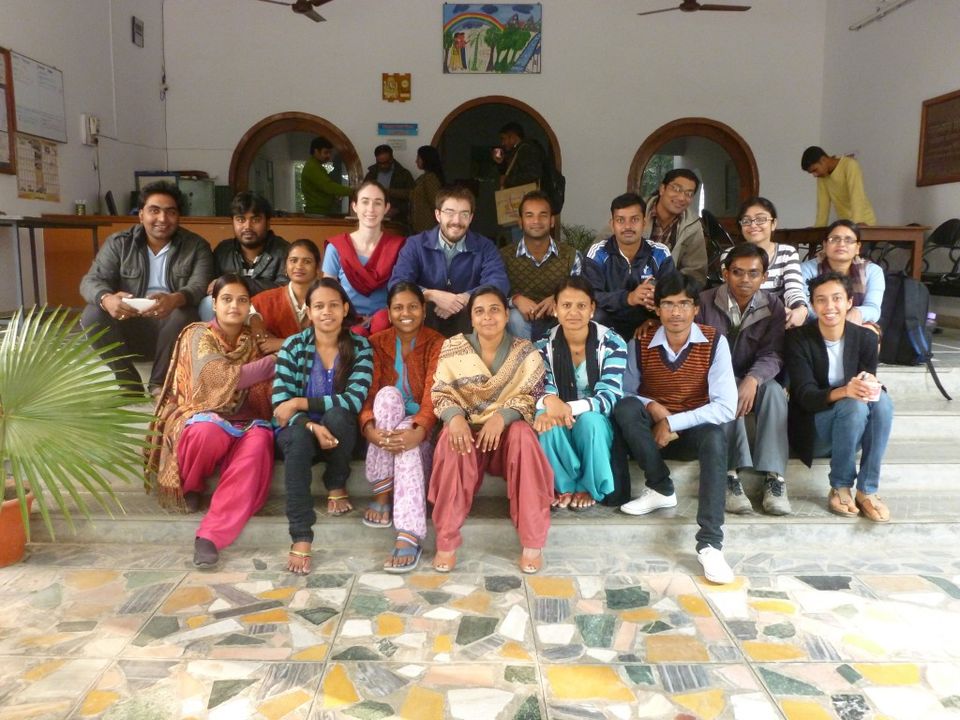 Dear friends,
Thank you all for everything you have done to make rice's 2013 a success. As the family portrait above shows, we have grown into a big team. What you cannot see in the picture is what a dedicated and talented group has come together, and how grateful we feel to be working with one another.
As we write, we have surveyors working in Bihar and Haryana, asking people important questions about what they think and feel and want, all on one of the trickiest topics to talk about with strangers. It is a tall order, but our surveyors and team leaders are up to it. By the end of April, we expect they will have spoken with thousands of rural households across eight states of north India. Policy-makers will have more data than ever before about the challenges of ending open defecation in India.
This early start to 2014 caps a 2013 that has seen more advocacy success than we could have predicted a year ago. Our work highlighting the importance of sanitation for child health and growth has appeared in newspapers in Ethiopia, Cambodia, China, and, of course, again and again here in India. We've taken our message to central government ministers, local development officers, non-profit partners large and small, newspapers, magazines, and even TV! An active community is growing around commitment to the idea that eliminating open defecation is a priority for human development in India.
India, where one-sixth of all humans live, faces three interlocking challenges. First, the problem is huge: most of the people here do not use toilets, and most of the people in the world who don't use toilets live here. Second, because of high population density, sanitation especially matters in India: pound-for-pound, reducing open defecation by the same amount in India will have a larger effect on infant mortality and child growth than in most other places in the world. Third, many people here resist switching to safe sanitation; too many people here simply don't recognize how bad for their children's health poor sanitation can be. There is no logical reason these had to all happen in the same country, but in fact we all live in a world where they did.
That is why we are so grateful for your help. We could not be growing our team, spreading our message, and reaching across India without the support that all of you provide.
We hope you will click on our "photos" tab to see pictures of rice in action in India, putting your support to good use. Keep in touch in 2014 – watch our blog for more stories, more data, and more pictures!
Happy holidays, and our deepest thanks,
Aashish, Avinash, Dean, Diane, Nikhil, Sangita